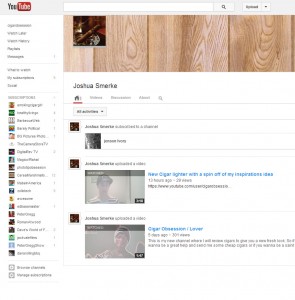 There is obviously no shortage of assholes that steal my work, copy my style, plagiarize my words, etc. but this guy takes the cake (so far) for sleeze. He is quite obviously trying to use my own name to solicit cigars! One of the retailers he is now actively emailing, sent me what he is sending out and it's reprehensible that he would be trying to link me to this! I'm reporting him to YouTube right now. Yet another college aged assclown thinking the world owes him everything on a silver platter it seems. Oh and he's the latest that is trying to steal my lottery idea. How original.
Customer Name: Joshua Smerke
Customer Email: joshuasmerke@aol.com
Message:

My name is Joshua Smerke I have a new youtube channel called Cigar obsession/ lover and have gotten over 300 views on my first video in only 4 days, but it is frozen right now at 301 views for technical difficulties I am currently working out. I am contacting your wonderful company and website to just say my viewers love your website, but sadly some don't know about you. I would love it if you were generous enough to sponsor a giveaway I am doing in my next video. You would get a shout out in that video and a direct link to your website in the description. What I would need from you is whatever you are willing to give to this great opportunity for both of us. I look forward to hearing back from you about our future business endeavors. My email is joshuasmerek@aol.com and of course you can reach me at my youtube channel. https://www.youtube.com/channel/UCezIi9wMpGTI2ToMyC2vT6A?feature=watch Thank you again for your time.
EDIT: He apologized, removed my name, I'll give him the benefit of the doubt and take him at his word. Apology Accepted.
EDIT: It appears he really didn't learn his lesson at all, registering with a 2nd fake account pretending to be a 3rd person to defend himself. Goodbye, again, 'cigarsmokernewbie'.