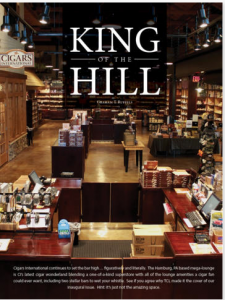 I had the pleasure of meeting the team behind The Cigar Lounger at the very end of the 2013 IPCPR show. I was literally packing up some gear and was fortunate enough to just bump in to them. What they showed me knocked my socks off! I am very much a realist if not somewhat cynical. So when approached by someone claiming they have some uber great new e-zine I was to say the least skeptical. HOWEVER…10 seconds after looking through the demo I was 100% sold. So much so that I'm contributing material free of charge just because I believe so much in the project. IT'S THAT GOOD. What it is, is a simple to use, BEAUTIFULLY produced e-magazine/app for iOS devices, with Android coming VERY soon I am told. It's not just your simple flippy page deal either, it's intuitively interactive with slick, professional layouts, graphics and most importantly of all – CONTENT. Articles, videos, photos, GOOD STUFF. Not fluff, not ads (although the ads in there are AWESOME, lots of multimedia!), not rehashed or hyped up news, etc. They are getting more and more major manufacturers directly on board every week and I can't WAIT to see where it goes. Probably the best part is, it's CHEAP too. $9.99 gets you a year of issues directly to your device. Yup, that's it! I truly can't do it justice typing about how cool it is, it's something you just have to see and interact with yourself. If you are already using it please comment below with your feedback, I know they would love to hear anything you have to say to help make it even better, or just how much it rocks! If you don't have it yet I can honestly say it's the best publication out there right now, give it a shot you won't regret it especially for under $10. When the Android version is launched I will certainly let you know too, but I hear it's within an issue or two.
"The Cigar Lounger isn't your typical publication!"
The cigar industry has a series of very good publications that cover the cigar culture from a variety of angles. The Cigar Lounger is different. It's a publication for cigar fans by cigar fans. You won't find overstated reviews or too many celebrity-type opinions. Instead, the contributors are the same people you'd find in your local lounge with a real expertise in their particular subject matter. The magazine articles become an extension of conversations that happen inside cigar lounges and are now extended to our subscribers.
"How are we different?"
TCL stands apart from other publications because we believe in using leading edge technology to directly enhance the experience for our loyal readership. Tablets allow us to deliver sensorybased interactivity to websites, video, surveys, special offers and other means of gathering valuable data. High Def photography and video engages the readers like never before. The multimedia availability provides our Ad Partners options that have yet to be fully explored. Stylistically, TCL reads more like a newspaper because we do not homogenize our contributors. The publication is currently found in various "App" stores and will be moving to multiple languages in the near future.
The Twitter handle for The Cigar Lounger is @thecigarlounger
Find them on Instagram @thecigarlounger
www.thecigarlounger.com
www.cigarmagazine.net