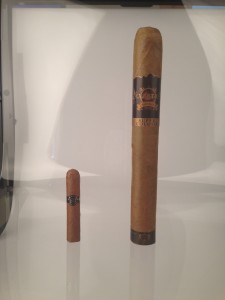 Yes, that is a robusto…on the LEFT!
First, congratulations to 'smokethis', winner of last week's contest! Get me your contact info and your prizes will go out!
Now, on to the next contest 🙂
This time it's for a custom sampler pack of cigars including some new ones from the show! 2013 IPCPR is in the books and my walking tour is posted. This time all you have to do for an entry is tell me what booth you are/were most interested in seeing from the show and why. Then share the post with the buttons below, noting which one you did!
Entrants must be 18+ years of age and have a US mailing address. Good luck!