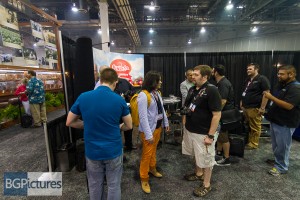 Just kidding! lol
I just wanted to give you guys an idea of what I did at the show and a recap of things!
Right now I'm editing and rendering video. I put up the first one as a test last night for Foundry, and have my workflow set, so the rest are crunching! I also have about 700 keeper photos to go through and edit, and will be posting the vids as I get the accompanying photos done for the posts. So look for them over the coming week+ at least, I'll probably do 3-4 a day. I don't want to overwhelm you guys and this way I don't have to rush but will keep your appetite satiated!
My goal was to be original, which you know is very important to me. I did get as many booths in as I had time for, but also had the chance to pick and choose at times because there were simply WAY WAY too many for anyone to cover in full. I knew what booths were being covered well by others so I did skip some, if I saw others getting them I just went to another. That being said there were plenty I wanted to get but just ran out of time for! I really am amazed how FAST the time flies by, it makes a 12 hour wedding look like a week long shoot. Seriously I blinked and 1/2 the days were gone. I guess it makes sense considering each tour takes from 5 min to 20 just to talk and film, then there's walking to the next one, sometimes managing equipment or stashing samples in between and waiting for an opening in between customers.
Overall reception was fantastic, with those that already knew me eager to get in a video, others I was happy to meet for the first time after having corresponded by phone or email previously. There were a few booths that were terrified of the camera and declined coverage. That really surprised me, considering the sales and promo nature of the show and the industry in general. But oh well, their losses. I at least have product and booth photos of them so you guys get to see everything anyway.
Getting back to being original I decided the best thing I could do is expand my theme of 'bringing you guys with me'. So that's my unique hook from now on with the events! I did my filming as encompassing as I could, showing you the booth, personalities and products the best way I know how. In addition to all the booth videos I'll have two really special ones…a full walking tour of the show floor so you can REALLY get the feel for being there with me, and then at the end a sweet photo montage I'll put together obviously after it's all edited. That will show you much better close up detail of the cigars themselves!
So in short, I had a great time and hopefully things pan out and I can at least break even – I do have a good feeling about it so I look forward to returning next year if possible! Look for videos over the coming week or two along with the normal reviews, which I'm also ramping up ASAP to be 1 a day! That's very, very tough on my schedule but I'll do my best. I do feel bad about the backlog but I can only devote so many hours a day to CO after my job.
Thanks for all the kind words and support guys – and if you like what you see, SHARE 🙂