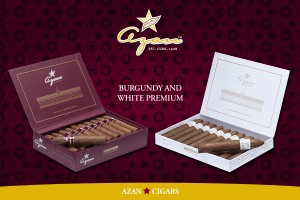 Press Release: ROBERTO DURAN PREMIUM CIGARS LAUNCHES AT THE 2013 IPCPR
(Miami, Florida) July 10, 2013— Roberto Pelayo Duran, respected industry professional proudly presents his newest venture: Roberto Duran Cigars. Roberto's experience encompasses a lifetime in the cigar industry which brings him to introduce what he considers, the best expression of the ultimate in premium cigars. Roberto Duran Premium Cigars begins its journey in 2013 IPCPR in Las Vegas.
Roberto Pelayo Duran began his life's work in his homeland of Havana, Cuba where tobacco grabbed a hold of him, and never let go. Supervising the production of cigar manufacturing in Cuba was only the beginning as he later went on to assemble and manage distribution of all Cuban cigar brands for Asia and Canada for The Pacific Cigar Company Ltd. Most recently, he contributed to the new global brand marketing strategy for Dunhill Cigars as a consultant. Roberto's new venture gives him the platform to introduce a brand of cigars that offer the same quality, construction, and detail which he exceeded from those he supervised while in Cuba.
Roberto has assembled a unique combination of well-known, talented, and well-traveled cigar professionals which is combination of a wrapper plantation in Ecuador and a boutique factory which focuses entirely on quality. This factory boasts only 20 couples that produce medium to full flavor cigars, with a very classic approach and excellent quality. Their craftsmanship is unrivalled and the small team allows for consistent superior quality monitoring.
Roberto Pelayo Duran said: "The dedication, technical skills and passion of the top tobacco experts are second to none. We are confident that there is a captive audience with cigar enthusiasts."
Roberto Duran's first release at the IPCPR in Las Vegas, Azan, holds a unique chapter in Cuban cigar history. Azan is one of the biggest kept secrets in the history of the Cuban cigar brands. Azan is particularly unique as it is the only Cuban cigar brand ever founded by Chinese immigrants. In 1928, Kwan Ben Sen (Domingo Azan) and his brothers, starting producing handmade cigars in Manicaragua, province of Villa Clara in Cuba. With the traditional Oriental dedication, focus and with a strike of good fortune, Domingo Azan was able to build one of the most successful tobacco brands in the center region of Cuba.
Roberto Pelayo Duran stated: We are fortunate to revitalize Azan as the great-granddaughter of Domingo Azan, Maria Isabel Alvarez Azan stands proudly with the Roberto Duran team.
The Azan cigar brand offers two lines, White and Burgundy, with the White being the premium of the two. The White Premium line features a long filler which is a combination of specially selected leafs from Jalapa and Estelí in Nicaragua and from Matafina in Brazil. The wrapper is a very fine Ecuadorian corojo grade 5 and 6, which contributes to a distinctive sweet medium flavored cigar.
The Burgundy Line are handmade cigars for daily enjoyment and perfect to share with friends. A medium taste cigar with a selection of the finest tobaccos from Nicaragua wrapped in grade 3 and 4 naturally medium dark-brown wrapper from Ecuador, contribute to an excellent sweetness in the flavor from beginning to the end. Wrapper: Cuban seed Corojo.