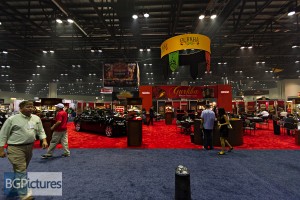 I'm getting a lot of questions about the show so I'll just throw up some info here for you all, feel free to ask anything else on this post and if I can I'll add some more.
It's very, very tough for me to be going to it, or anywhere else not work related this time of year. Frankly, it sucks. I only say that because CO is not my job, being a Commercial and Wedding Photographer is. In the end, it's costing me about $4000 to be at the show this year. $1000 in flights, hotel and food for the week, and I had to turn down a $3000 wedding gig. The same thing happened last year but I absolutely had to take the wedding instead, it was a huge shoot, multi day and I just couldn't turn down the opportunity. As a result I only made the last day of the show and was on 3 hours sleep. This year I made the commitment to put the show first for the WHOLE thing and see what happens. While I certainly won't make any actual money at the show, I do hope to at least make new company contacts, ideally setup some new photography gigs in the industry and expand my portfolio, get some new hookups for the CO site, etc. It certainly can't be any kind of vacation or sight seeing tour, at the cost to me it comes with.
The show is industry only. It's as far as I know, the only big one in the states that is exclusively for the industry, so the manufacturers can sell directly to the retailers. There are TONS of big and awesome consumer shows all year round in various states. Anyone that wishes they could go to the IPCPR just has to buy tickets to any of the other big bashes to get their fill of cigars and shows, trust me. It's not a big carnival production so much as it's companies simply trying to catch an eye. This is where retailers decide how they will be allocating shelf space in their shops. They get to see new releases and pick up on trends their customers might be looking for in the coming months. It's all about making money. It is the lively hood of the manufactures here, it's NO joke. This is why they do not have any interest in consumers here. It's 100% work for the guys spending the thousands and thousands of dollars to have a booth, to try and make profits for the next year. It's extremely stressful and taxing on everyone involved. It's not that they have ANYTHING against consumers, but for this short time of the year all the energy is consumed with work just for the mass of retailers.
I still have a ton of things to get done before I leave. I'm trying to wrap up some projects since I'll be behind once I get back. I made some new CO shirts and just remembered today that I forgot to order new business cards. I'm also building up a buffer of review videos to autopost while I'm away since I won't be able to do anything while I'm there. I have a ton of portable HDD space coming with me to dump cards too and will have probably 500-750 GB of pics and video to edit once I get back. Just getting through all the week's data will take me several days once I return.
EDIT: To nip to donation talk in the bud that's NOT what this is about at ALL. If I didn't have the funds I wouldn't be going, all is well. I only detailed it because people asked. Thank you very much though for the sentiment and spirit of your posts!
EDIT2: new cards are on the way 🙂