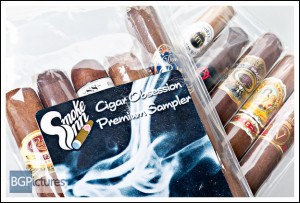 First, congratulations to last week's winner, of the Cherry & Chrome ashtray, user 'samgiroux42'! Get me your contact info and I'll pass it on to cigarhumidors-online.com!
Now on to the next contest…this one is special and big so it's going to run for two weeks…it's an out of production ORIGINAL CO Premium Sampler, with the Anarchy! I have just a few of them here and am willing to give up one. The others I'm really keeping just as a memento since I created the concept and would just like to hang on to it for my old age lol Maybe I'll break open one sometime since they are so hard to resist 😉
OK to enter this one you need to have a US mailing address and be 18+ years of age of course. As usual you just need to share using the buttons below and comment with what you did – plus – which of the included cigars in the sampler is your favorite or you are most wanting to try! Good luck – the winner will be drawn in two weeks!