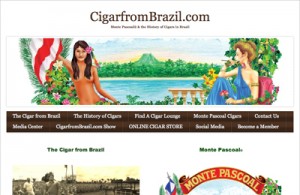 Monte Pascoal Launches New Site
New Website Provides Information on Company and Brazilian Tobacco.
March 19, 2013. The purely Brazilian cigar company, Monte Pascoal, has launched a new informational website at https://www.cigarfrombrazil.com/. The site includes information about both the company and about Brazilian tobacco.
Monte Pascoal was the winner of Cigar Journal's Cigar Trophy for Best Brand from Brazil in 2011.