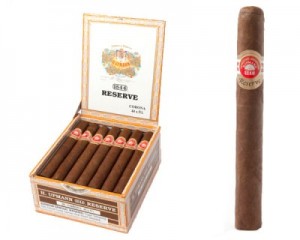 A week has gone by and only three entries came in for this contest, so viewers, you have an easy job! Vote for your favorite and next Monday the winner will receive the prize: Cigarcountry.com is once again sponsoring a contest and they are donating a customized box of H. Upmann Reserve 1844 Belicosos! They can provide customization to a great variety of the Dominican brands, check them out when you are in need for an event! Thank you guys very much for supporting the site and being so generous to the viewers!
Entry #1 is a video, entries 2 & 3 are written. Please log in and cast your vote for these guys!
ENTRY #1

ENTRY #2
[nggallery id=692]
H. Upmann 1844 Reserve Robusto
5X50
By: Kyle B. KB9311
I started my H. Upmann 1844 Reserve Robusto on a cold Illinois night overlooking a local pond while
chilling in my car. With sports radio in the background and my wife at a meeting(meaning no
interruptions) I cut it up and started slowly lighting the foot with a natural flame. I have had three H.
Upmann reserves before and every time I have had one the draw was so poor they were un-smokeable,
blocked up, tighter then any thick milkshake. I swore I would not give these another try after wasting
money on these several times before, but I decided to give it one more chance. So before I even
started I knew I would have to cut the cap a few times. I ended up cutting it three times before I found
the pre- draw to be suitable.
After lighting up my first puffs produced very good smoke, not blocked at all!!! Immediately the
flavors were deep tobacco with sweet woody undertones and a spice on the tongue and lips. The smoke
was fairly thick and surprisingly smooth, a kind of smooth you only get from cigars that cost five to six
more dollars then this stick did. I found this at my local tobacco store for $5.50 I personally enjoy this
flavor very much so I was excited for what was to come. I started smoking at 5:38pm and by 5:57 the
burn was only down about half an inch with the burn line being a little uneven.
After the first inch or so the burn evened out beautifully, maybe one of the most even burns I have ever
had or seen smoking a cigar. The construction was beautiful and the burn continued to be very slow
but still very even. At the half way point I was at the one hour mark. The flavor had dropped off the
spice and became very sweet and nutty keeping the wood and added a light coffee on the finish. The
ash held on nicely and fell off by itself (in my makeshift McDonald cup ashtray) after nearly two
inches of a strong hold.
After the first two inches the flavor immediately went back to a pepper feel on the lips and in the back
of my throat with the sweet wood dominating the flavor and the coffee was gone never to return again.
As I got down to the band point the flavor started getting a little harsh and became non appetizing. I
finished with just under two inches to go at just over an hour and twenty five minutes in.
All in all this was a very good stick for the price and I enjoyed it thoroughly while listening to some
local sports radio. It was nice to find some good flavor in a stick that I had given up on. Thanks to
Bryan Glynn from Cigarobsession.com for putting this contest together and helping me to find a good
smoke I would not have found other wise.
ENTRY #3
[nggallery id=693]
Username Guarnacciad
I chose the Tubo size mainly because I liked the tube. The wrapper is a medium brown, it's smooth, and it looks like there's a lot of veins but none of them are big. It smells sweet, and chocolaty with just a hint of spice. The pre draw was a sweet tobacco flavor. In the first third there was a medium spice and a decent amount of smoke. I tasted notes of tobacco sweetness and hints of leather. In the second third the spice stayed about the same and there were still hints of sweet tobacco. There wasn't much of a change in the last third. I would describe the spice as more of a black pepper then anything else. On the retro hale i did sense a very slight hint of cinnamon spice. The retrohale with this cigar was very enjoyable to me. The cigar died out in the last third and I didn't re-light because it was so far down already. The burn on this cigar was pretty much razor sharp The ash only fell off twice around the end of the first and second third. If you can't retrohale then I wouldn't recommend this cigar as anything special. If you can I really enjoyed the flavors it presented. In my opinion for a $6-$7 cigar this was a good deal and I would buy it again.
VOTE:
[colorvote id="12″ style="wpcvp-poll"]