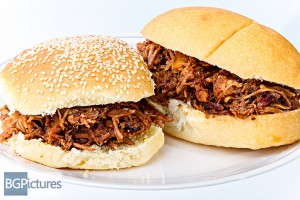 Guy Stuff – Smoked Pulled Pork Sandwiches & Strawberry Key Lime Pie
This is a 1.5 recipe treat – the .5 because the pie comes straight from the side of the bottle with just a proportion tweak by me and a custom topping idea!
For the pulled pork, it's super easy to make but needs quite a bit of time. Put forth the effort and you are rewarded with enough for 20 or so samiches of the most delicious pork you'll ever have! At a cost of about $1.50 per, it's very economical too for families or a party!
For the pie, if you can't score the juice at your local supermarket you can order a bottle from the website here. My only tip is to triple the recipe to make two fully filled pies, otherwise you end up shallow following the bottle.
Lots more tips in the video of course! To make these guys you'll need:
Pie:
Key lime juice
eggs
sweetened condensed milk
pie crust
Pulled pork samiches:
Pork Shoulder, 8+ lbs.
Pork rub of your choice, I used paprika, base rub (salt, pepper, onion powder, garlic powder), brown sugar
Wood of your choice, I suggest something light, I used pecan
Apple juice or water
Buns
Sauce of your choice, I used Sweet baby Rays