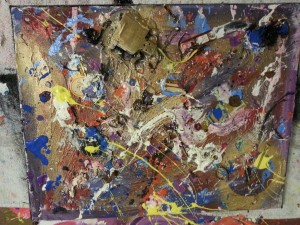 Congratulations pirateteaparty & Here's The Next Contest!
I had to run a few random.org picks because so many of you last time didn't read the rules, but pirateteaparty, you won last week's contest, get me your contact info EMAIL HERE and I'll get it right out!
Now this week we have some sweet hand-made cigar art (click for larger pic), courtesy of Josh Taylor:
"This mixed media painting, created by Maine artist Josh Taylor, is up for grabs! Painting measures approximately 11×17. Painting has a gesso background, with acrylic and enamel paint. Painting is infused with shredded and whole cigar bands, ash, cigar shavings, and an old Zippo lighter. In honor of cigarobsession.com, the painting is entitled " The last third" and is one of a kind. Josh can be contacted at jtayloriota@yahoo.com for any information regarding projects and paintings.
To enter you must be 18 years of age or older and have a US mailing address. All you have to do is comment below with where you would hang such a beautiful piece of cigar art, then click the Like and/or Tweet buttons below and note which one you did! A random winner will be drawn in a week and I'll start a new contest 🙂