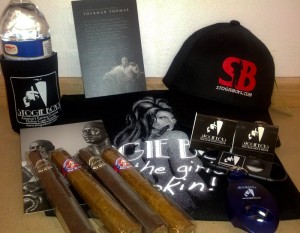 Congratz Jerry4996 & The Next Contest Is Started!
Jerry4996 get me your contact info and I'll get your prize pack right out!
Now for the next contest and prize pack, this time generously supplied by Stogieboys.com, we have an awesome sampler of Thurman Thomas cigars, a coozie, cuter, hat, shirt, bottle opener and more!
To enter you must be 18 years of age or older and have a US mailing address. All you have to do is comment below with what your own cigar would be like if you could make it under your own name, then click the Like and/or Tweet buttons below and note which one you did! A random winner will be drawn in a week and I'll start a new contest 🙂
Good luck guys!