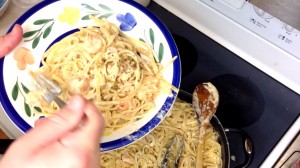 Guy Stuff – Garlic Shrimp Fettuccine Alfredo
This time around I have a super easy, delicious Italian dish, my overall favorite! There are many combinations of things you can make with this, and garlic shrimp is one of my staples. Of course you can go crazy and jack the price up with lots of great fresh ingredients like lobster, shrimp, scallops, clams, mussels, calamari, etc. but it's also awesome just plain. Below I've listed the stuff you need, for a large family serving. 1/2 the list for a few big meals.
2 lbs. fettuccine pasta
1 cup heavy cream
1 cup milk
1 stick butter
2 cloves worth of garlic
1 teaspoon salt
1/2 teaspoon fresh ground pepper
2 small bags of shrimp
2 tablespoons parsley
16 oz parmesan cheese
If you want to make it plain, start with the butter for the sauce and omit the garlic or just use a pinch.