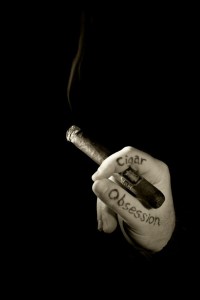 Congratulations To Paul Tyler! Winner of the 'Smoke' photo contest with his CO hand!
Now, on to the next contest! This is a photography contest with a twist – it's themed! The theme for this round is 'Thanksgiving'. The rules are simple – create an original photograph (only 1) involving cigars, correlating to the theme. Entries must have a HANDWRITTEN 'cigarobsession' somewhere in the picture. Entries will be open through Friday and voting will take place on Sat and Sun by the users as to which best fits the theme. Players must be 18 years of age or older and have a US mailing address.
The prize for this round will be custom 8-10 stick sampler of various cigars courtesy of me!
All submissions must be sent here: bryan@cigarobsession.com – include your contact information in the email.