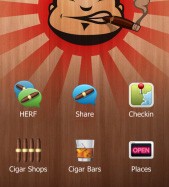 Lakewood, Colorado – November 1st, 2011 CigarDojo the Social Cigar App is available for both iPhone as well as Android devices in the iTunes and Google Play stores. The CigarDojo Social Cigar app is a free smartphone app that is designed for cigar smokers to socialize and share their thoughts and images of the the cigars they are smoking.
"Cigar smoking is a highly social hobby and we knew that none of the existing cigar apps were very social in nature therefore the CigarDojo Social Cigar App was born." said Eric Guttormson CEO of CigarDojo.com. "Cigar smokers communicate on Twitter and Facebook which is great but there is so much distraction on those social media tools we knew cigar smokers would love to have a place of their own."
Users of the app can create an account in seconds or merely login with their existing Twitter or Facebook account. Users can also send their status updates from the Dojo out to both Twitter and Facebook therefore there is no need to duplicate efforts. "The Dojo is like a world-wide HERF. Wherever you are smoking you always have the Dojo in your pocket and the vibrant Dojo community is always ready to comment on what you might be smoking." In the first month of release the Dojo app has already had over 1,000 downloads and the growth shows no sign of slowing down.
The Dojo is a fun place to relax, smoke, and share.
"The thing that separates the Dojo app from other cigar apps is the awesome group of people that participate. We have personalities of all types on the app and everyone is positive and supportive." And the Dojo gives back. The Great Cigar Giveaway allows users to enter to win cigars from companies such as My Father, Arturo Fuente, AJ Fernandez, Espinosa Cigars, Eddie Ortega, Rocky Patel, Drew Estate, and others. "The giveaways are our way of showing our cigar community how much we appreciate their fellowship." Giveaways stated in October and will run deep into December 2012. "Hopefully we can find more great partners and keep these giveaways going forever. Abe from SmokeInn.com, and Jorge at Stogies World Class Cigars in Houston were instrumental in helping us get the Great Cigar Giveaway off the ground."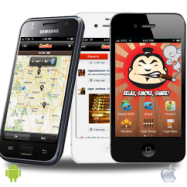 The Dojo app also features a really slick cigar shop and cigar bar locator where you can "checkin" while you are at your favorite location or even add your own location to the app. Of course the app also features the Dojo's famous cigar reviews and a cigar event calendar but there is no doubt the focus of the app is the fellowship and the social HERF aspect of the app. Eric says "We have only just begun with this app. It's our goal to be the number one cigar app in the world and we have all sorts of plans to add new features to our app. Our app is free so please download it and say hi to our ever growing community of cigar smokers."
The CigarDojo App is free and can be downloaded…
For the iPhone in the iTunes store:
https://itunes.apple.com/us/app/cigardojo-social-cigar-app/id555309816?mt=8
For Android devices in the Google Play store:
https://play.google.com/store/apps/details?id=hr.apps.n1027161
And a Web app version for any other type of mobile phone:
https://m.cigardojo.com/
Full feature list can be viewed at https://cigardojo.com/app
Because no cigar should be left behind,
Eric Guttormson AKA Master Sensei
President https://cigardojo.com