EDIT: To all of you that want to nit pick, throw in your two cents about problems, come up with ways of cheating, etc. – save it, and don't play. The rest of us are having fun!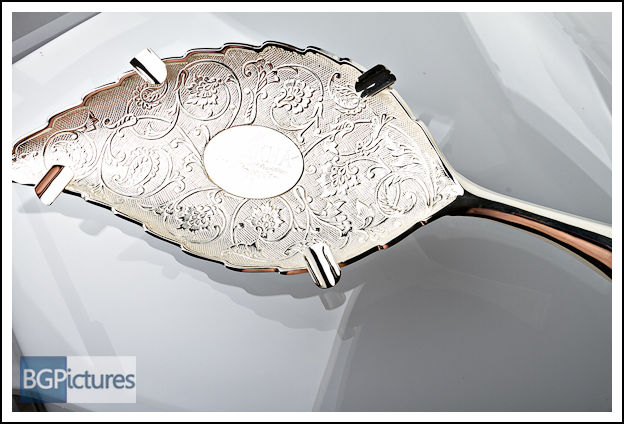 Summer Contest #11 Winners And Ashtray Giveaway!
OK first of all, congratulations to the winners of last week's contest, primox1 – you won the cigar sampler and 2dogdad  – you won the lighter! Get me your mailing info and I'll get your prizes right out! bryan@cigarobsession.com
We didn't hit our mark of doubling traffic, it's actually settled about 20% up, just a bit above the natural gain on it's own. But I'll still give out a couple boxes of cigars 🙂 First though I'll be giving away one of the beautiful Gurkha ashtrays, that you all have been voting on over the last week or so. It was VERY close, but the winner for which to give out now was the Silver by just a couple votes!
The contest to win the silver plated ashtray, with an MSRP of over $350 will be this: A longest ash contest!
Playing is simple. You can use any cigar you wish, you will have two weeks to get your winning shot in. You can submit multiples, if you get a better one since your original submission and ask me to replace it. To enter you must simply take one specific photograph. You must place a bill on your leg and hold the cigar with ash attached next to it in mid air with the nub at the bottom so we can see how long it is. Be sure to take the photo directly above, nice and square. This prevents cheating and allows for one-handed operation, no need for a 2nd person 🙂 An example photo is shown here: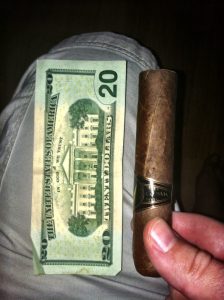 Entries will be posted to this thread until the contest closes. The winner with the longest ash will be sent the Gurkha silver plated ashtray! I will also draw at random two runner-up winners that will receive other goodies, so even if you don't think you'll win the ashtray, you might win something! This isn't tobacco, so this contest is open to any viewer in any country, of any age. Good luck! Send in your entries HERE: bryan@cigarobsession.com
ENTRIES: