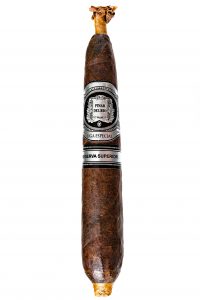 Press Release: PDR CIGARS ANNOUNCES RELEASE OF THE RESERVA SUPERIOR SALOMON
(Miami, FL) – July 28th, 2012: PDR Cigars USA, which boasts some of the most distinctive blend profiles in the premium boutique cigar market is excited to announce the release of their most artisanal vitola to date, the 6×66 Salomon which will debut at this year's IPCPR trade show in Orlando, FL on August 2nd.
The Reserva Superior Line is a Limited Edition line first introduced by PDR Cigars at last year's IPCPR convention in Las Vegas with a 2000 box production run that was only available at the convention. The Reserva Superior Salomon will be a terrific addition to the portfolio. The Salomon will sport a double wrapper comprised of a maduro coupled with a natural wrapper at the foot and on the head of the stem. With an 80 year history in cigar making the PDR Cigars factory will showcase the skill and attention to detail possessed by its master rollers in the making of this beautiful offering. Now in its 8th year of independent operation, under the leadership of Abraham Flores PDR Cigars has continued to offer cigar enthusiasts a solid selection of flavorful, well-made cigars. The Reserva Superior Salomon will be yet another testament to PDR Cigars' commitment in that regard.
"I felt that it was important at this stage in our brand to offer something truly special and limited to the consumers that really enjoy the brand. The Salomon also allows us to offer something super exclusive to the family of retailers that support the brand as well," Said Abe Flores, President of PDR Cigars. "This is truly a connoisseur's cigar"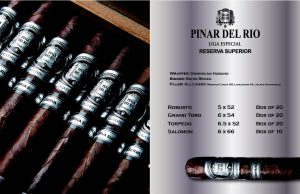 The Limited Edition Salomon will be packaged 10 cigars to a box and each individual cigar will be nestled inside a coffin. The blend for the Salomon is the same as the rest of the Resreva Superior line. The primary wrapper is Dominican Habano while the binder is Brazilian. The filler is Dominican, Nicaraguan, and Lancaster PA. The Reserva Superior Salomon will only be available at the IPCPR convention in Orlando FL next week. With a box production of only 500 this rare offering will be limited to select retailers throughout the country.
"We've enjoyed great support from our family of retailers and we're excited to have the opportunity to provide them with this truly limited cigar. We enjoyed making the Salomon and designing the packaging as well. It's really a special project," Said Flores.
With its current catalog of premium boutiques lines, which include PDR Small Batch and PDR 1878, along with quality value offerings such as Flores y Rodriguez, the Salomon along with the rest of the Reserva Superior line further solidifies PDR Cigars as a mainstay in the premium boutique cigar market. More information can be found on PDR Cigars at www.pdrcigars.com