EDIT – the contest is closed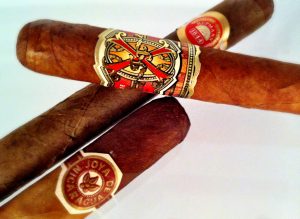 Summer Contest #7 and #6 Winners!
OK first of all, congratulations to the winners of last week's contest, kb9311 – you won the cigar sampler, & georgerin – you won the lighter! Guys, get me your mailing info and I'll get your prizes right out! bryan@cigarobsession.com
Now, on to this week's contest, which will run through the weekend as usual. Thank you all again for participating in the Sharing contests and helping to grow the site, let's keep it up! Now if this works out and I see the stats at least double by the end, I'll have an even bigger prize stash at the end, I'm thinking a few boxes of cigars. Winners must be at least 18 years of age and reside in the US. It is the entrant's responsibility to check back and see if they won. Prizes unclaimed after a week will be redistributed.
This week I have a sweet three cigar sampler consisting of a H. Upmann Toro, a Joya de Nicaragua Cabinetta No. 7 and last but not least, an Fuente Opus X Reserva Chateau! All you have to do to enter this week's contest is comment below with which of the three cigars in this prize pack you are most looking forward to trying. One entry per person. And please don't forget to share the site any way you can with as many people as you can, the bigger we get the more I can give 😉
ALSO – don't forget to enter the guessing contest for a BIG box of cigars, running through July HERE!