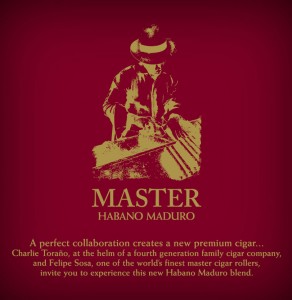 PRESS RELEASE: TORAÑO FAMILY CIGAR COMPANY TO RELEASE THE LATEST IN THE MASTER LINE: THE MASTER MADURO
(Miami, FL) May 2, 2012- The Toraño Family Cigar Company is proud to announce the release of a new chapter in the Master story: The Master Maduro. The Master line of cigars has been a smashing success with the launch of the original Master two years ago. The Master BFC 6X60 quickly followed, and as demand for this popular line has increased, the Toraño family now brings you the Master Maduro.
As with the original Master, the Master Maduro was a collaborative effort between Toraño's master roller Felipe Sosa and President of the Toraño family business Charlie Toraño. Sosa, who is a true artisan, is passionate about the Master line which carries his image on the boxes. Sosa approached Charlie about experimenting with a Habano Maduro wrapper that would create a new cigar worthy of the Master name. After tinkering with the blend using the Habano Maduro wrapper (a dark rich wrapper grown in Nicaragua), Charlie and Sosa found this cigar to be medium in strength and full of flavor. In true Maduro style, this flavourful blend is a complex balance of sweet spicy notes with a rich, chewy finish.
The Master Maduro's final blend was a cigar that needed to pass the strict test of Charlie Toraño, as it had to match the quality of the original Master. The Master was released with much anticipation after the Toraño family took back its distribution in 2010. The new cigar blew the doors open as the Master garnered high ratings from Cigar Aficionado (91), and went on to make waves in Europe as it received a 98/ 5 star rating and rated third best cigar of the year by Cigar Journal Magazine.
"The Master brand has been one of our most successful brand launches. The positive feedback, both in the U.S. and abroad, inspired us to expand the brand." Charlie Toraño went on to say," The Master Maduro is that rare combination of just enough power with an abundance of rich flavor."
With an MSRP of $6.00 to $8.00, the Master Maduro is a competitively priced cigar in its category. The Master Maduro will be offered in a Robusto 5 x 50 and Toro Gordo 5 ½ x 54. For those who prefer the big and bold the Master Maduro is also available in a BFC 6 x 60.
A leader in the cigar industry, Toraño Family Cigar Company is a four generation company currently based in Miami, FL. It enjoys a rich heritage and history in tobacco growing and manufacturing. For more information: www.Toraño.com. Please also follow Toraño on Face book: Toraño A Family Cigar Company or on twitter: @TORAÑOFAMCIGARS.