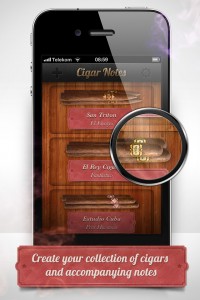 PRESS RELEASE: Cigar Notes App Releases
Cigar Notes
★ Cigar Notes – For Cigar Aficionados only! ★
You love a good smoke and the finer things in life?
Now you can write down your thoughts and keep track of the important information. Approach your hobby in a new way and increase your knowledge. Ready whenever and where you want with Cigar Notes on your iPhone.
Rate, comment and organise your collection of Cigars. Compare your ratings globally with our online database and share your thoughts with others. All in our beatifully designed App.
What are you waiting for? Try Cigar Notes now and always carry your hobby with you!
Features:
★ Handcrafted App – perfect for retina displays
★ 15 unique Cigar Types
★ CREATE a collection of cigars and accompanying Notes
★ WRITE down Tasting Notes and additional information like country of origin, format, etc.
★ RATE quality and taste and compare with global rating Database
★ ADD photos of your cigar collection to your Notes
★ SHARE your Cigar Notes with others via Twitter, Facebook or Email
★ Integrated Help
Need help or want to say hello?
Facebook: https://www.facebook.com/LiquefyStudios
Twitter: https://twitter.com/LiquefyStudios
Email: support@liquefy-studios.com