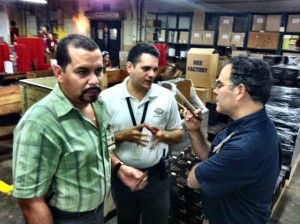 This has been a first of we hope many such outings for General Cigar whether it be with us or new groups along the way. I think everyone has come away with a new appreciation for the cigar industry as a whole no matter how we all were prior to this trip. As far as myself, who admittedly is not nearly as in to the cigar lifestyle as most of my colleagues here, I have new and deep understandings of everything from literally the ground up, to the shelf. I now know first hand how to make a cigar from leaf to box ready to ship. In fact I have a box of my own creations with me coming home to sit for a few months and mellow 🙂
The day started early again, although with one exception coughstevecough I think we were all used to it 🙂 Steve Boyajian SKOOLED us all on how to drink last night, downing an obscene amount of alcohol. To the point where a mere mortal would have had alcohol poisoning twice over. No lie over 2 liters of the good stuff and a ton of beers. To top the feat he was awarded at tonight's send off dinner for winning the cigar blending competition! Way to go BRO!
We first headed to the main factory for our humility class, aka bunching and rolling 101. In 1 hour we all managed, with the help of an equal number of experienced rollers/teachers, to make ourselves 20 each of our personal blends. It's a true art, and no wonder it takes weeks and months of hard training for them to get the job. We learned entubado, where each leaf is rolled into equal sized tubes, then carefully bunched (or sloppily in our cases) and placed in a machine to help the roll in to the binder. For me the hardest part was finishing the binder off and getting everything even. When you watch it being done it looks almost automated, like you are just placing leaves and it makes itself. Nothing could be further from the truth and every single one of us will agree on that. There wasn't a proud blogger in the house after that class.
We also toured the box factory which I honestly wasn't really looking forward to, having seen coverage of many others already. They are all, without exception, small disorganized operations, usually not much more than a dirt floored cinder block hut with some wood working equipment and people pounding and sanding away. We arrived and were all given the mandatory masks to protect us from dust and fumes. Entering the facility two things were immediately clear. This is a huge operation, and it's top class. It would fit in anywhere in the US and tops many factories I've seen stateside with safety gear, well marked areas, curtained rooms, careful ventilation – the works. What was also amazing was the fact that everything is done on site. What is received are all the raw components from many different countries. One box will typically have components from as many as 10 countries in it. Coming in are huge raw wood planks, very thick. They are lumbered down through many steps to make all the box parts. They are assembled, finished, painted, silk screened adorned and even shipped to many non-General customers, all right here.
We again had a great Dominican lunch, which has some fantastic selections like yuca bread before having our 2nd and most humbling/humiliating lesson of the day – wrapper rolling. If we though bunching was a task, we aint seen nothin yet. I believe we actually made the production staff a little pissed as we stumbled our way through, requiring our hosts to step in and take over at many points. Speaking for myself I probably rolled 5 of them 50% of the way by myself and the rest…well…I was moral support. In the end they all looked great but we all knew who really did the heavy lifting 🙂 A little later on we had the last class, which was refreshingly easy, banding and cello. As you can imagine we all got the hang of this right off the bat and completed 10 of our sticks with Macanudo bands, the other 10 getting our own custom bands for the official judging. Our 10 sticks each went to us is small boxes for us to take home!
By this point it was about 4pm and all but 4 of us went on a small shopping tour and visited a museum which I hear was pretty cool. Maybe next time! I stayed as well, to do some informal interviews with some of the executive staff and take some portraits inside the factory at a little spot I arraigned for the shoots. The others conducted formal interviews in the very posh executive offices and conference room.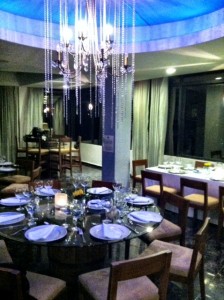 To cap off the night and trip we were then bused back to the hotel where we changed and left for a relatively short ride up the nearby mountain to a very scenic restaurant called Camp David. It's probably the only really nice place in the entire city, and you drive by the only real nice houses in the city up the mountain to get there. We were fed well again, drank well again, were presented with our mementos plus some surpise parting gifts of what else – boxes of cigars 🙂 To cap my personal trip/agenda off, I setup one final photo shoot with all us bloggers overlooking the entire city below. I'll post the final shot sometime later when I'm done with it, it should turn out pretty awesome I hope!
Well that's it from the Dominican Republic. It's 1am now and we have to be up in something like 5 hours, and I'm absolutely beat. I can't wait to get home for many reasons but I sure glad I had the great opportunity to come – for equally many reasons, one of which is I hope I made some great new friends here, finally putting faces to so many I have only interacted with online.
[nggallery id=399]