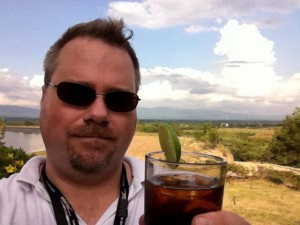 It's been a great time here with my fellow bloggers, enjoying great company, seeing first hand the largest and arguably the most influential cigar grower, maker and seller in the world. It's no doubt and no joke that General Cigar is THE big guy in the room when talking about cigar production and sales no matter the conversation. I have to give HUGE props to Victoria McKee for being instrumental in putting this whole thing together. She's really gone above and beyond from the smallest detail, coordinating huge travel plans for over a dozen of us rowdy goons, setting up meals, transportation, hotel rooms, entertainment, education, tours – the list goes on. The woman is a master planner and truly 'gets' how we bloggers can help not only her company but more importantly the whole cigar industry. She's leading by example and I hope the rest of her team recognizes it and rewards it.
Most consumers have no scope of just how large this operation is, and truthfully we didn't either. Today we had some time to talk in depth with executives of all levels including President Dan Carr, who we will all be able to interview in more depth tomorrow when we are granted dedicated time slots. Today was purely informal with conversations and information flowing in both directions as key players here showed interest in just how we fit in to the game, and we probed how General Cigar is continuing it's turnaround from just a few years ago from a rather stale organization. Acquiring CAO was a key device in this process and I'm sure they have many plans for the near future to continue.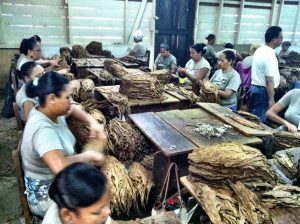 It's not all sunshine puppies and rainbows, we bloggers are admittedly and open about not being General Cigar's target audience. They are playing the safe middle road as far as blending and marketing, but you know what I think we can all appreciate their side of the 'argument' as well. It's put in to perspective quite simply when you comprehend the figures. As was said tonight around the 'campfire', a small market release by General Cigar is many times larger than the largest boutique brand release. They sell over 100 million cigars a year. They have more in stock for the next 30 days than not only any one else but it's more than most annually many times over as well. It's a big, big, operation on all scales.
This morning started earlier than last and the day included MUCH more travel than we anticipated. The first stop was to one of the first tier processing plants where sorting, stemming and such took place. We were given fumas to try, pure rolls of one particular priming of the plant such as ligero so we could taste all the differences. We toured the facility examining the workflow and layout, going through the many climate controlled areas meant to impart specific qualities to the leaves at different points of the transformation. As the raw bundles arrived from the farms they need to be unpacked, moisturized, breath and age. They are carefully attended to at every step of the way with careful documentation and supervision. The employees are actually rotated around at all levels and job positions to generate the most flexible workforce possible. This allows the company as a whole to immediately shift production at a moments notice if there is a production rush at any point. Oh yeah – and on the ride to the plant not a soul was left behind 😉
We then had a wonderful lunch provided back at the main factory, and were split in to two smaller groups for tours of the facility, in the areas we didn't cover on Monday. This included the much more interesting areas of processing, rolling, fermenting, storage, etc. where we saw the more personable side of the operation, the hundreds and hundreds of faces of General Cigar. For the area they actually have a great employment plan, paid hourly and a production based salary. We saw details of all the Dominican Republic produced lines and fun little things like meeting the girls that hand apply all the 'N's on the La Gloria's.
Environmentally two things have really stuck out with me about the operation at multiple facilities. First, I had NO IDEA the temps and humidity levels it's all kept at with the exception of rolling. IT'S HOT! IT'S UNGODLY HUMID!! Think 80-90 deg everywhere and 70-90% RH depending on if the room is being misted or not. At times I thought this trip was really fat-camp as we all sweatted to the oldies. Everyone was ringing out their shirts after each return to the bus, no lie. Second, when processing tobacco gets wet, it dramatically accelerates the ammonia release. I thought it was bad in the 'dry' rooms. I ran from today's wet rooms.
After lunch we again went by bus to one of the nurseries where we saw the process of planting the seeds in to trays holding hundreds of new buds, which were then placed in huge greenhouses and constantly watered and tended to. There honestly wasn't much to see there except endless row after row of seedlings. impressive scale nonetheless. We then went on the long trek to the center of the volcanic valley where the farms are located. Unfortunately we are here at the wrong time for anything impressive so the fields were actually being planted as we rolled up. It's done semi-automatically with a tractor and feed belt system as they get the new plants in to the ground. The entire area is irrigated with home made sprinklers consisting of miles of pipe and wooden poles. There are also hanging strings above presumably for the optional cloth coverings, none of which were in place here today. What was truly impressive was the size. The area we were in was vast, with a hanging barn at one end, a road down the middle and just huge fields on either side. I asked how large of an area were were in and was told 10 acres on one side 15 on the other. They have over 400 acres total here. We were looking at a drop in the bucket and it would take 30 minutes to walk around it as we saw.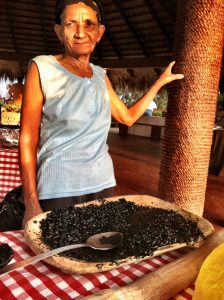 After the evening ended at the farm we traveled to 'the gazebo' which was a rather lavish rec area complete with very comfy rocking chairs for an exquisite Dominican dinner. BBQ chicken, roast pulled pork, beans & rice, hand fired ground and brewed coffee on the spot, absolutely spectacular wines and just about anything else we wanted. Continuing the feedback process we were all given three new test blends to try out and makes notes on. All three were very new experiments for General Cigar based on current offerings and I think every single one of us found at least one that we would be excited to buy in a store today. I shot a few portraits of staff after dinner, we enjoyed an evening rain shower as the bats who were canvassing the area for their own evening meals settled down, and made our way back late tonight to the hotel here in Santiago. Bro. Beyond that – more to come 🙂 Tomorrow is a very exciting day with a box factory tour rounding out the production site seeing, then it's some actual work were we each have to hand roll 20 cigars to get our plane tickets home. 10 of which will actually be judged by a 10 person executive panel from the company! We will have instruction in bunching then lunch, then rolling and the day will conclude with our interviews, myself concentrating on photo sessions. The other bloggers here are much more capable of conducting the formal interviews than I.
Much, MUCH more to come after I get back and can really edit the photos and footage. This is just the tip of the iceberg, I simply don't have time to do more, I'm beat each night as it is.
[nggallery id=398]