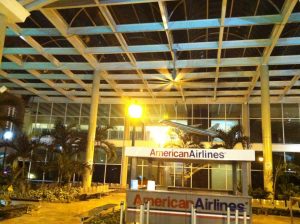 This week I bring you coverage from the Dominican Republic as I shoot and tour with General Cigar! They were awesome enough to invite me and several other great bloggers along as we tour and learn from their masters. Over the next three days solid we will be experiencing every step of cigar manufacture from seed to shipping, even trying our hands at our own creations! I will definitely have great photos to share when we're done and maybe even a little video, although everyone's exact plans are kind of playing by ear at the moment. We are just rolling out of bed this morning, getting ready to greet the day with what promises to be a heck of a breakfast spread downstairs in the hotel, here in Santiago, DR.
Last night all but one of us flew in together from Miami arriving to our own private customs lounge avoiding the crowd in the terminal, greeted by the GCD crew with fresh coffee and refreshments while our checked luggage was taken care of for us! We then gathered and split in to two small buses as we trekked 15 minutes from the airport tot he hotel, which was QUITE the trip in itself! You see the drivers here – well they just plain suck. As in – you do NOT want to drive here unless you HAVE to. You will probably be hit and or killed, no joke. They are just bat S@!* insane. On the short drive here we almost got run off the road twice, someone was almost killed and it seemed to be the norm. The roads are filled with these crappy little moped like bikes that are stacked with two people each, often with no lights. Or helmets. Or shoes. Or brains. Last night two of these side by side were slowly passing our convoy in the left lane, almost even with the front bus, I was in the rear bus. Then this insane (but par for the course) driver in a mini SUV decided to play Fast & Furious and try to pass BETWEEN the mopeds and the front bus, pushing the bus off the road while hitting one of the bikes, rolling the driver on to his hood, then off and UNDER the front buses wheels! Amazingly, he rolled along the road and his bike splattered as we dodged him – then he got up and started limping around as his buddies went over to him. Welcome to the DR!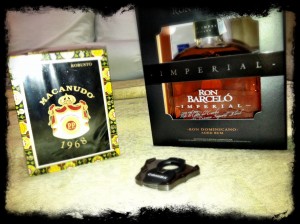 After getting in to our fabulous rooms, we were free to mingle and chill out after a LONG day's travel around the outdoor pool and bar, where it was a smorgasbord of DR food, drinks and of course cigars. We all had our fill, turning in well past 1am telling stories, getting to know one another better and of course talking cigars 🙂 Time flies when you're having fun! Today starts a whirlwind tour as we start our day going to a factory for seminars, blending sessions and tours, followed through the rest of the week with interviews, photo sessions, bunching and rolling classes, etc. More fun to come!