Day 1 In The Dominican Republic At The General Cigar Factory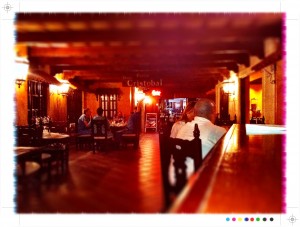 Our first day started at our hotel with a lovely breakfast consisting of typical Dominican selections. The omelet was familiar, the meats and cheeses were superb, the fruit fresh and flavorful! It was more than we could eat and I enjoyed a big glass of pineapple juice to kick start my morning. I'll also note the coffee around here is da-bombdiggiy!
8:30 rolled around and we were driving to the main production factory through downtown to the 'tax-free zone' which is a small city in and of itself of manufacturing facilities of all kinds. Cigars, materials, textiles, clothing, pretty much everything is in this walled off secured section of the city. Driving in the day is just as interesting as at night, with the city full of activity and transportation of all kinds from all directions at once! You have a strange mix of homeless street people next to exotic car dealers and clothing boutiques up and down the strips. It's a perpetual mad rush hour and you need your wits about you!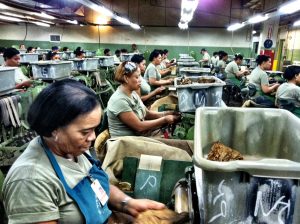 The factory is an amazing creation seemingly going on for miles with room after room of dozens of machines, workers, bailes and every state of tobacco you can imagine. The maps hanging on the walls are almost comical and maze-like. Our morning started with a very nice presentation where we met some key figures in the company relative to this location, headed by VP of Operations Jhonys Diaz. He went over the company history, the ideas behind the blends and brands, and it was made very clear the value the company at all levels places on it's number one resource, it's people.
We were then treated to a couple surprisingly hard hours of tobacco testing and hands on blending where we were able to try dozens of pure tobaccos from various countries and types, then attempt to create our own custom blends depending on the qualities we were aiming for. We were able to gather the leaves of our choices and hand them off to an on-site master roller who would actually create our concoctions for us to then try on the spot, make changes to our choices and try different combinations! Most of us did find surprising results in how different qualities of pure rolls change when combined in certain ways with others. When I asked how long of a process it is to find a final production new blend in this manner, I was told about 1 year of constant work trial and error and I believe it 100%. We wrote down our final choices and will have the chance to create our final creations for evaluation later in the tour.
Time flew by and we were treated to a fabulous lunch and cigars while we discussed the mornings results and plans for the rest of the day. There was a nice spread of rice & bacon, a great salad, various meats and an awesome coconut desert that tasted like baked coconut cream and lemon pie – to die for! We then headed out to the first of a few facilities lead by General Cigars Dominicana General Manager Francisco Rodriguez, where we saw the transition of the leaves in all stages from raw bale shipment, to bunching, sorting, fermentation (multiple steps), moisturizing, sorting, stemming, etc. What shocked me was how HOT everything is kept through the steps. In the rooms where it's also kept wet, the gasses coming off the tobacco is MASSIVE and really kicks your ass. In some rooms a few of us, myself included, couldn't take any more from the insane ammonia fumes. Some employees are used to it while others wear gas masks. I would wear two.
Ending back at the factory we were shown the finer differences between wrappers in color, texture, aroma, etc. Taking a bunch of wet wrappers in your hand and smelling them right up close you get a true sense of the character of each tobacco, even if you couldn't visually tell. Tomorrow we hit the fields and the other facilities where we will get to see it from seed to soil with the curing barns, the earlier stages of development and planning, which I'm very much looking forward to! For now it's off to the pool-bar for some pre-dinner drinks…and cigars 🙂
[nggallery id=397]