Cigar Survivor Gong Show #2, DAY 8 FINAL VOTE (Register on the site to vote)
Last day! The rules are simple, cast your vote once per day for which entry you think should be ELIMINATED from the competition! Each day a new vote will be up until 'There can be only one'! Here are this month's entires in no particular order:
#1
My first humidor
I have been a cigar smoker since over a decade now and when I started I was a teenager and knew very little about it except that I really liked the taste of them. I enjoyed a few puffs here and there but I wasn't smoking on a regular basis until I spent a summer in Victoria, BC where I could easily get my hands on some quality sticks. I was buying a few of them at a time and soon needed a place to preserve them. At that time, I had very little money to spend on cigars and far from my budget was the idea of acquiring a humidor. So I decided to build one. Actually, I built two of them, one for myself and the other one for my younger brother, who is also a "cigaraholic" like his older brother…
I did not own too many tools for wood working so what you see there has been made with very little, mostly tools borrowed from my uncles. I "stole" some wood from those same uncles and I bought what I thought was the top of the line hygrometer hahaha! The humidification device is made from an old film canister and the rubber joint all around the lid is made from a mouse pad that I took apart and cut to size. It wasn't the best humidor but sure prevented my precious sticks from drying!
To complete this story, I need to mention that a few years ago, thieves broke into my brother's house (the brother that owns the other humidor of that same "vintage"!). They looked for hidden money and finally took off with my brother's personal computer and this humidor that I had made. When the police showed up on scene, they found the computer and the humidor in the woods, not far from the property. I felt bad for my brother at the time but also secretly felt proud about the fact that this little box had been worth enough for them to try stealing it!!!
Hope you enjoyed the story!

#2
This is a picture of my 160 pound brown Newfoundland Bruno
and I in the middle of winter in Portland, Maine. It was in the 20's
but I was able to still enjoy this Montecristo Flor*Fina.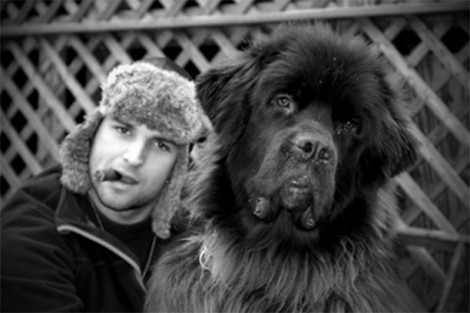 [poll id="33″]