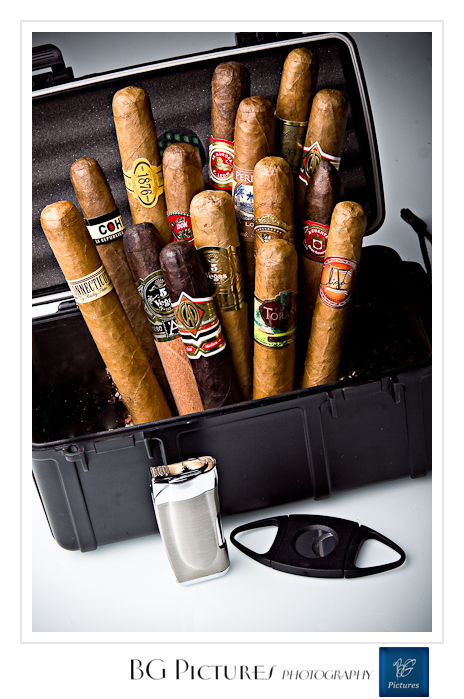 Alright the first show was a success, let's keep it going with another sweet prize! Up for grabs this month is a sweet 15 cigar sampler AND a 15 cigar portable Cigar Caddy humidor AND my favorite dual flame lighter plus a nice little basic cutter! Everything you need to get started or simply add to your collection! (Bonus stick to the winner that correctly identifies each cigar pictured)
This month's contest is sponsored by CheapHumidors.com – check them out for everything you see here in the prize pack, they have great deals!
Entry is easy – it's a talent contest of sorts, but there are basically no rules! You are vying for the votes of your fellow smokers, or rather, NOT the votes! You see each day, for as many entries as there are, one entry will be voted off! Entries can be a photo, a video, a story – whatever you feel will be a hit! Make it fun, serious, a parody – it's up to you, your talents and creativity!
To qualify you must be over 18, live in the Continental US and (if you have the appropriate accounts already) Like us on Facebook, be subscribed to our YouTube Channel, Follow us on Twitter, Sign up for the CheapHumidors email list and leave some comments on your favorite review videos!
If you are entering a story or photo, email it to me at bryan@cigarobsession.com. If you are entering a video, host it on YouTube, set it to 'Unlisted' and send me the link. All entries will go up at the same time for public flogging – I mean, voting!
At the end of the vote process the winner will receive his or her prize pack, free!
Now through the end of April I will be accepting the second round of entries, so get to work people!