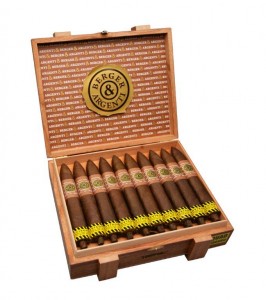 FOR IMMEDIATE RELEASE Contact: Albert J. Argenti
August 20, 2010 (305) 644-2114
ENTUBAR® QUAD MADURO LIGHTS UP IPCPR NEW ORLEANS
MIAMI – Berger & Argenti Premium Cigars announced the debut of ENTUBAR® QUAD MADURO at the 78th IPCPR Convention and Trade Show in New Orleans, LA was an overwhelming success and enthusiastically received by retailers and consumers alike.
ENTUBAR® QUAD MADURO is a full-bodied, super-premium extension of the sensational ENTUBAR® cigar brand which was unveiled to the public a year ago at IPCPR. Like ENTUBAR®, the QUAD MADURO pays tribute to the time-honored Cuban cigar making technique known as 'entubar' while also establishing a revolutionary new process of manufacturing premium cigars.
Each deeply aged Nicaraguan filler leaf that comprises the ENTUBAR® QUAD MADURO blend is carefully rolled creating delicate 'scrolls' of rich, flavorful tobacco. This age-old method ensures open chambers of air flow from the foot to the head of the cigar. The ligero tobacco, which lends the cigar its unique full body, are bunched independently and then placed into the center of the remaining 'entubar' rolled filler blend. This 'channel' of ligero tobacco ranges the full length of the cigar and extends ¼" beyond the finished trimmed foot, creating a startlingly unique 'fuse like' appearance that assures a superior draw, flawless conical burn with a long white ash, and a myriad of complex flavors channeled directly onto the palate. ENTUBAR® QUAD MADURO is 'cuadrado' pressed Habano and comprised of all Cuban-seed Nicaraguan (viso and ligero) and Dominican (seco) fillers, a savory Nicaraguan binder, and skillfully enveloped in a rich, dark Jalapa Valley-grown Maduro wrapper crop aged eight years in seasoned oak barrels.
Due to the meticulous small batch production of ENTUBAR® QUAD MADURO, only 'friends' and authorized ENTUBAR® merchants in the United States will have access to the brand. ENTUBAR® QUAD MADURO is delicately packaged in rustic Spanish cedar boxes of 20 cigars and available in four (4) distinct vitolas characterized by sumptuously large ring gauges: Corona Macho (4 5/8" x 48); Robusto (5 3/8" x 54); Double Corona (7 5/8" x 54); and Torpedo (6 7/8" x 56).
Berger & Argenti Premium Cigars is a privately-held company headquartered in Miami, Florida with agricultural and production facilities in Esteli, Nicaragua. The company serves as the exclusive manufacturer, importer and distributor of world-class, super-premium cigar brands including ENTUBAR®, ENTUBAR® QUAD MADURO, CLASICO® and MOOCH®. For more information, please call toll-free (800) 815-1155 or visit the Berger & Argenti website at www.bergerargenti.com.