[nggallery id=100]
Berger & Argenti Entubar Robusto Cigar Review
This 5 1/4 x 54 stick offered a very consistent flavor profile of deep rich tobacco flavor with touches of leather in the first 1/2 and a bit of barnyard appearing through the second. The finish was very long with a mild pepper flavor and tingle on the tongue. The draw was on the loose side with the perfect amount of resistance for a smooth burn all the way down. The ash was remarkable for holding on to about 4″ before falling off in one large column. Total smoke time was 1 1/2 hours to the nub with 1″ remaining, also fairly remarkable in the fact that it stayed consistent in flavor and temperature all the way to that nub. Thank you very much to Berger & Argenti for generously donating this stick for review, it is greatly appreciated! Photography by BG Pictures.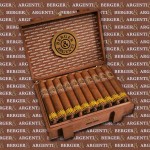 FOR IMMEDIATE RELEASE Contact: Albert J. Argenti
September 25, 2009 (305) 644-2114
BERGER & ARGENTI ENTUBAR® A HIT AT IPCPR NEW ORLEANS
MIAMI – Berger & Argenti Premium Cigars announced that the widely anticipated release of ENTUBAR® at the 77th Annual IPCPR Convention and Trade Show in New Orleans, LA was a sensational success and enthusiastically received by retailers and consumers alike.
ENTUBAR® is a full-bodied, super-premium cigar brand that merges 'Old World' cigar making with 'New World' innovation. ENTUBAR® is a revolutionary creation that pays tribute to the time-honored Cuban cigar making technique known as 'entubar' while also establishing an innovative patent-pending process of cigar manufacturing not seen in the premium cigar industry before.
Each deeply aged Nicaraguan filler leaf is carefully rolled into itself creating delicate 'scrolls' of rich, flavorful tobacco. This age-old method ensures open chambers of air flow from the foot to the head of the cigar, creating a superior draw. What makes this new brand truly stand out from all others is the unprecedented process and appearance of the ENTUBAR® cigar. The ligero tobacco leaves that lend the cigar its unique full body is bunched 'entubar' independently from the rest of the blend before it's 're-bunched' directly into the center of the remaining 'entubar' rolled filler blend. This ligero 'channel' ranges the full length of the cigar and extends¼Ã¢â'¬Â beyond the finished trimmed foot, creating a startlingly unique 'fuse like' appearance that virtually assures a perfect, conical burn with a long white ash.
Due to the meticulous small batch production of ENTUBAR®, only 150 of the finest tobacconists will be authorized as ENTUBAR® merchants in the United States. Shipment of the new brand will commence in mid-October. Comprised of all Cuban seed Nicaraguan filler and binder tobaccos, ENTUBAR® is graced with an Ecuadorian 'Desflorado' Connecticut-seed wrapper which lends its characteristically long, sweet finish.
ENTUBAR® is available in four (4) unique vitolas characterized by sumptuously large ring gauges: Robusto (5" x 54); Double Corona (7½Ã¢â'¬Â x 54); Torpedo (6¾Ã¢â'¬Â x 56) and Gran Toro (6½Ã¢â'¬Â x 64) Available in rustic Spanish cedar boxes of 20 cigars, the suggested retail price of each cigar ranges from $8.99 to $11.99.
Manuel Medina, Berger & Argenti's production supervisor and Grade Seven master tabaquero whose industry experience spans over 60 years including supervising production at Havana's famed Partagas cigar factory, says he was 'astounded' when Michael Argenti first brought his plans for ENTUBAR® to him. "What Michael Argenti has done with the creation of this cigar is nothing I have seen or even dreamed of. I am very proud to help produce ENTUBAR® because it marries the 'Cuban way' of making cigars with new philosophies of making a perfect cigar smoking experience. It's a revolutionary new concept I'm proud to be associated with."
Berger & Argenti Premium Cigars is a privately-held company headquartered in Miami, Florida with agricultural and production facilities in Esteli, Nicaragua. The company serves as the exclusive manufacturer, importer and distributor of world-class, super-premium cigar brands including ENTUBAR®, CLASICO®, EXILE®, EXILE® Wired and Rodrigo de Xerez®. For more information, please call toll-free (800) 815-1155.