I DO NOT MAKE A PENNY ON THE CO MERCH!
AS PRODUCTION OF STOCK ENDS REPLACEMENTS WILL BE MADE
CO 2016 Premium Selection Sampler
This is my latest and greatest Sampler!  Back when I created the concept of a premium branded sampler, the first to come out my the original Premium Selection.  It was a runaway hit, with several of it's selections selling out forever!  Once again partnering with the fine folks at SmokeInn.com to bring you not only this fantastic group of super premium cigars but do so at an incredible 10% discount – I present the CO 2016 Premium Selection Sampler!  10 cigars for $89.95 which are sure to win your over and probably help you find new favorites!  You get one each of the following:
Padron Family Reserve No. 50 Natural
Caldwell Blind Man's Bluff Toro
Avo Syncro Nicaragua Fogata Robusto
Rocky Patel Royale Toro
Iconic Recluse Draconian Sidewinder 3
Coabey by Southern Classic
Gurkha Ghost
New World Toro
PDR AFR-75 Maduro Sublime
Illusione Epernay Le Matin
Given past performance for my samplers this will sell out batches very fast. Get yours here today! https://www.smokeinn.com/Cigar-Obsession-2016-Premium-Sampler/
CO Fans Sampler
Here is the latest CigarObsession sampler creation! Aiming for the middle between the cost-be-damned premium and the budget-minded samplers, this was developed with the help of the CO Fans group (link at the top of the site) to bring some AWESOME requested sticks at am amazing price! This is sold through SmokeInn.com and as always I have zero financial affiliation with the sales, it's just for fun and marketing on my end. And fear not, this one will not have the supply issues of the last! Each 10 pack sampler consists of:
Davidoff Nicaraguan Robusto Tubo
Alec Bradley Prensado Robusto
New World Connecticut Robusto
El Gueguense Robusto
Drew Estate Pope of Greenwich Village
Padron 1964 Maduro Monarca
San Lotano Oval Corona
La Aroma De Cuba Noblese
My Father Le Bijou Grand Robusto
Camacho American Barrel Aged Robusto
CO Top 10 2015 Out of Production
Welcome to the latest and greatest CO Sampler, this one another of my Super Premium collections! While you are getting a phenomenal deal and discount, this was put together with one simple thing in mind – top selection quality – period. After many months of work getting the right list together and more importantly getting enough stock from factories around the world, it's ready! You get the following 10 fantastic sticks:
Aging Room Small Batch M356 Motivo Grand Corona (6 x 46)
AVO XO Maestoso (7 x 48)
Blanco Nine Lancero (7 x 38)
Herrera Esteli Toro Especial (6 x 52)
My Father La Antiguedad Toro (5.6×55)
New World by AJ Fernandez Gobernador Toro (6 1/2 x 55)
Oliva Serie V Melanio Churchill (7 x 50)
Padron 1964 Anniversary Imperial Nat. (6 x 54)
PDR A. Flores Gran Reserva Corojo 2006 Grand Toro (6 x 54)
Rocky Patel Royale Toro (6 1/2 x 54)
PLUS!! Two free additional cigars at the store discretion! All shipped with a Boveda pack so you don't have to worry about transit time. Now do yourself a BIG favor and acclimate these for a couple weeks before smoking. Many people make the mistake IMO of smoking them right off the truck, and it will sometimes effect burn and flavors dramatically. Let them adjust to your best conditions and you'll be thanking me later!
HIDDEN TREASURE 2
OK guys it's time for the next CO Sampler! I present to you the Hidden Treasure 2, filled with 8 awesome budget-conscious but mouth-watering examples of fine cigars. These are all premium cigars that I personally love and know most others will too. You get them at a discount, get to try new things, maybe find new favorites, heck maybe you just want to keep ordering more samplers?! No matter what it's a great grouping that I put together for you this time, so enjoy! Inside each sampler you will find:
1- Padron 3000 Natural
1- Camacho Ecuador Toro
1- La Jugada Habano Toro
1- Sindicato Corona Gorda
1- RyJ Toro by Romeo y Julieta
1- 601 La Bomba Bunker Buster
1- H. Upmann The Banker Annuity
1- Nat Sherman Timeless Dominican Hermoso
As always I have no financial affiliation to this sampler. it is sold and produced 100% through SmokeInn. Click below to order yours while you can, the last two samplers had cigars go out of production!
https://www.smokeinn.com/eshop/Cigar-Obsession-Hidden-Treasure-2-Sampler-buy.html
PREMIUM SAMPLER
Introducing the new Smoke Inn & Cigar Obsession Premium Sampler! This very special cream-of-the-crop sampler was custom selected by me, to bring to you my top 10 favorite cigars from Smoke Inn! Inside you will find 10 instant hits, all with rich smooth bold flavors, perfect construction and mouth watering satisfaction!
This sampler appeals both to new smokers who no longer have to gamble on a sampler purchase, and to seasoned smokers who know just from looking at the list of cigars included that it's a fantastic opportunity! Watch the video for full details about it's creation and more…
In each sampler is one each of:
Alec Bradley Tempus Centuria Churchill
Ashton Classic 898
Don Pepin Blue Label Generosos
Illusione 88
La Aroma De Cuba Edicion Especial No 4
Oliva Serie V churchill extra natural
Padron 1926 Natural #6
Rocky Patel Decade Robusto
San Cristobal Elegancia Robusto
Tatuaje Anarchy
Tatuaje Anarchy Apocalypse
Room 101 Big Delicious
This first edition is priced at just an incredible $89.95 and includes FREE SHIPPING on your entire order! (Cigarobsession.com has ZERO financial affiliation to this incredible deal, it's just for fun!)
Click the link HERE to order yours today and be sure to let them rest for a while in your humidor before making all your friends jealous while you enjoy your fabulous purchase 🙂
ORIGINAL HIDDEN TREASURE SAMPLER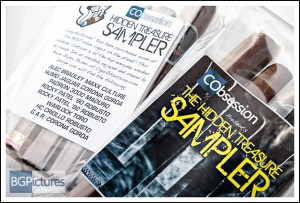 I'm very proud to announce the arrival of the newest CO/SI sampler project, Hidden Treasures!
The first one, the Premium Sampler, was ALL about the quality. it's jam packed with some of the world's finest cigars at a great deal, but the price is still high for some smokers.
So this time I have created a pack for everyone to afford, and help you find some new favorites as every-day smokes! Maybe you'll find some you want to start buying boxes of to save even more? No matter your reason for trying it, you're sure to find it full of great examples of some of my personal favorite gotta-have cigars. They aren't ultra premium but they are all excellent in their own ways! Check out the video for all the details and order yours today 🙂
In each sampler is one each of:
Alec Bradley MAXX Culture
Humo Jaguar Corona Gorda
Padron 3000 Maduro
Rocky Patel '90 Robusto
Rocky Patel '92 Robusto
Warlock Toro
Xikar HC Criollo Robusto
G.A.R. Corona Gorda
As usual, I have zero financial ties to this, it is ONLY for fun, to bring an awesome deal to my viewers!
CLICK HERE to order from Smoke Inn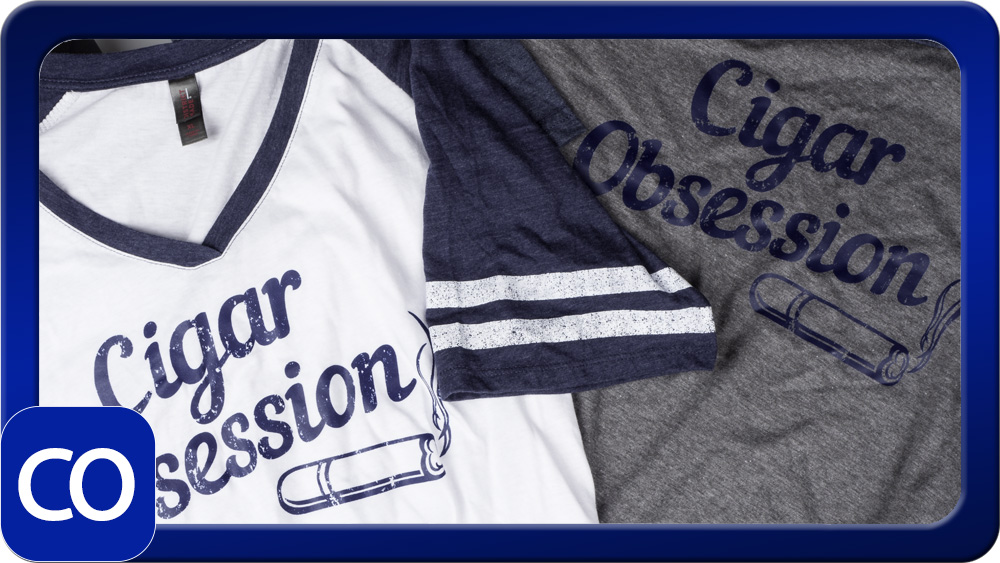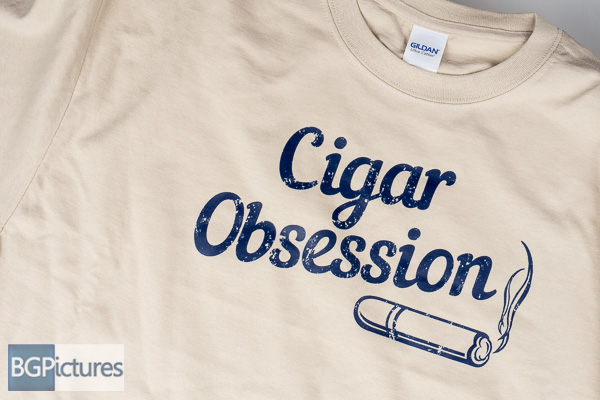 These gorgeous shirts are designed and printed by The Stitch Garage here in FL! Below you can see examples with links to choose colors.  Email all orders and questions directly to thestitchgarage@earthlink.net
Regular t-shirts are available in any color fabric. Athletic t-shirts are available in Mens & Womens designs in the shown color combinations only.  Logos are only available in navy blue.
Polos are available in any color and the stitching can be any color.
T-shirt Prices:
S-XL $15.99
2XL $16.99
3XL $17.99
4XL $18.99
Shipping is $6.95 or free for orders of 5+
Polo Prices:
S-XL $25
XXL $27
3XL $28
4XL $29
Shipping is $6.95 or free for orders of 3+
International shipments also available but shipping cost would need to be calculated beforehand.
T-shirt pics and colors are here:
Mens Athletic: https://www.companycasuals.com/TheStitchGarage/b.jsp?id=11374722
Womens Athletic: https://www.companycasuals.com/TheStitchGarage/b.jsp?id=11374719
Mens Regular: https://www.companycasuals.com/TheStitchGarage/b.jsp?id=126862
Womens Regular: https://www.companycasuals.com/TheStitchGarage/b.jsp?id=6665906
Polo colors here: https://www.companycasuals.com/TheStitchGarage/b.jsp?id=10335006