Samplers
AS PRODUCTION OF STOCK ENDS REPLACEMENTS WILL BE MADE
PREMIUM SAMPLER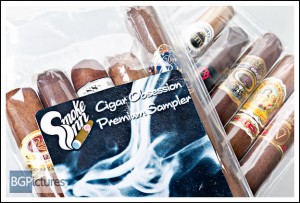 Introducing the new Smoke Inn & Cigar Obsession Premium Sampler! This very special cream-of-the-crop sampler was custom selected by me, to bring to you my top 10 favorite cigars from Smoke Inn! Inside you will find 10 instant hits, all with rich smooth bold flavors, perfect construction and mouth watering satisfaction! This sampler appeals both to new smokers who no longer have to gamble on a sampler purchase, and to seasoned smokers who know just from looking at the list of cigars included that it's a fantastic opportunity! Watch the video for full details about it's creation and more…
In each sampler is one each of:
Alec Bradley Tempus Centuria Churchill
Ashton Classic 898
Don Pepin Blue Label Generosos
Illusione 88
La Aroma De Cuba Edicion Especial No 4
Oliva Serie V churchill extra natural
Padron 1926 Natural #6
Rocky Patel Decade Robusto
San Cristobal Elegancia Robusto
Tatuaje Anarchy Apocalypse
This first edition is priced at just an incredible $89.95 and includes FREE SHIPPING on your entire order! (Cigarobsession.com has ZERO financial affiliation to this incredible deal, it's just for fun!)
Click the link HERE to order yours today and be sure to let them rest for a while in your humidor before making all your friends jealous while you enjoy your fabulous purchase

HIDDEN TREASURES SAMPLER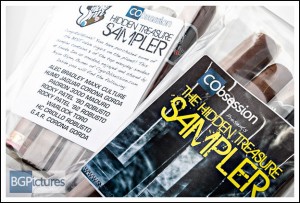 I'm very proud to announce the arrival of the newest CO/SI sampler project, Hidden Treasures!
The first one, the Premium Sampler, was ALL about the quality. it's jam packed with some of the world's finest cigars at a great deal, but the price is still high for some smokers.
So this time I have created a pack for everyone to afford, and help you find some new favorites as every-day smokes! Maybe you'll find some you want to start buying boxes of to save even more? No matter your reason for trying it, you're sure to find it full of great examples of some of my personal favorite gotta-have cigars. They aren't ultra premium but they are all excellent in their own ways! Check out the video for all the details and order yours today

In each sampler is one each of:
Alec Bradley MAXX Culture
Humo Jaguar Corona Gorda
Padron 3000 Maduro
Rocky Patel '90 Robusto
Rocky Patel '92 Robusto
Warlock Toro
Xikar HC Criollo Robusto
G.A.R. Corona Gorda
As usual, I have zero financial ties to this, it is ONLY for fun, to bring an awesome deal to my viewers!
CLICK HERE to order from Smoke Inn