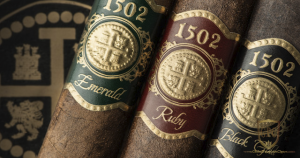 Fist, congratulations to last week's winner user 'skistner', taking home the Felix Assouline sampler! Get me your contact info for your prize pack 🙂
Next, one more time around, thank you once again to Global Premium Cigars for sponsoring this week's giveaway! Up for grabs is a sweet 9 cigar sampler pack including cigars from each of the 1502 line!
To enter all you need to do is tell me what you prefer to do while enjoying cigars, most of the time. Some people like to talk with friends, some like to read, surf, watch movies, meditate, chill out, drink, play pool, work outside, drive, etc. – what's your pleasure? Share the post using the buttons below and comment with which you did for a chance to win! A random winner will be drawn in a week.
Entrants must be of legal smoking age in their respective state and have a US mailing address. Good luck 🙂
The contest is closed, congratulations user 'rotherson'!