Mar 30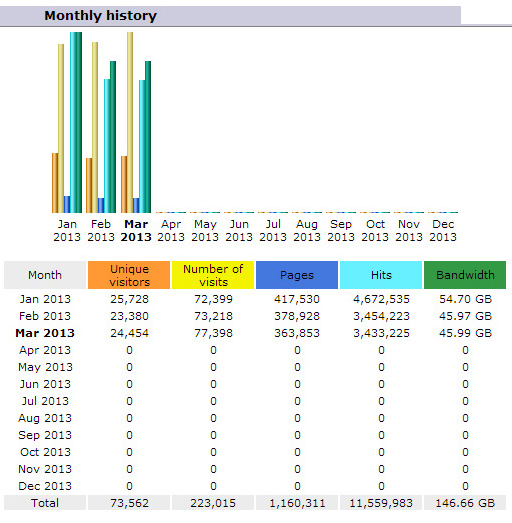 I thought I would just share some interesting (to some) information about the site. I hadn't really looked at the site stats recently, I just glance at my overall trends screen to make sure things are going in the right direction. But I thought some would like to see some of the nitty-gritty! I've seen some other sites post similar info so figured why not

CO may not be the biggest cigar site on the internet, there are certainly much larger blogs out there like Halfwheel, StogieReview, A Cigar Smoker, etc. but I think CO has the coolest viewership – thanks guys!!
Bear in mind these numbers are 100% human, they do NOT include any search engine spiders, robots etc. Jan is the typical peak month, just after Christmas and we saw 72,399 unique visits and 417,530 pageviews.  What shocked me was the bandwidth (and that's after caching and compression!!)- glad I'm on a great server lol!  Can you imagine if the world didn't have YouTube  and we still had to serve videos directly off our sites?!  YIKES!  Just as a rough estimate…the average non-HD video is about 250MB assuming someone watch the whole thing.  I'm at a 6k daily video view level right now.  So minimum that's about 150GB daily being played.  In reality it's higher because some people do play the HD versions which are double the size!  I love you, YouTube

So when I tell a potential advertiser that CO is a great place to be and a great deal, you can see why I mean it!