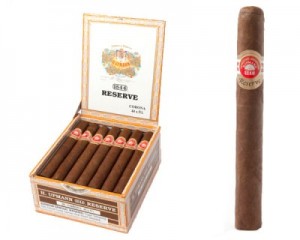 First of all, congratulations to 'fifosam', winner of last week's giveaway! Get me your contact info and I'll get your prize pack right out!
Now, on to this week's competition 🙂 This time we have a throwback to one of last year's concpets, a user review contest. I'm revising my original idea, making ti easier for all of you to play in hopes that more people will participate. I know it's cold out, but you can go to a local lunge for this too.
The concept is simple, you will be reviewing, IN YOUR OWN WAY, an H. Upmann Reserve 1844 cigar. Any size you can find is fine. If you want to do a video review it just needs to be on YouTube and you need to mention the cigarobsession.com in the video. If you prefer to do a written review, you just need to include a photo of the unlit cigar and at least one of it part way through the review being smoked. Other than that – MAKE IT GOOD. Don't copy someone else's format, be original. That's it, see – easy!
Now, what can you win for all this effort? How about a full box of cigars!? Yep, Cigarcountry.com is once again sponsoring a contest and they are donating a customized box of H. Upmann Reserve 1844 Belicosos! They can provide customization to a great variety of the Dominican brands, check them out when you are in need for an event! Thank you guys very much for supporting the site and being so generous to the viewers!
You have one week to email me your entry and then there will be a one week voting period.