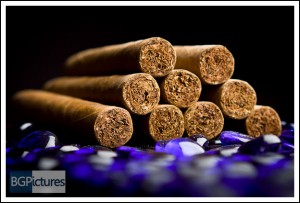 OK since we went down for the last few days right after this original contest started, I'm rebooting it!

EDIT: Congratulations user 'mobarbq', you are the winner!

I will pack a small USPS box with a sampler to the lucky winner, just for commenting below and sharing! All you have to do is enter by commenting below with what your favorite cigar is so far, and by using the Share button on facebook and /or Re-Tweeting the post on twitter! Each way of sharing will get you one extra entry.
Just to be clear you have to comment AND share at least one of the ways to enter!  Be sure to use the Share and Tweet buttons below or directly on Facebook & Twitter, otherwise it's not tracked or counted.  Not just leave a comment…
The winner will be drawn Monday, March 5th 2012! Must be 18 years of age or older and take delivery in the US. Good luck!